I opened my inbox this morning to find the following from The Pregnant Motie Warrior:
I just wanted to let you know, in case mom hadn't, that Flea had an accident on Thurs., and ended up with a left parietal scull fracture (above his left ear). He's fine and acting like his normal adorable self. His daycare provider was putting him down for his morning nap and slipped on a blanket- she went down, and Flea went up, then down. We took him in to the Children's Hospital right after it happened, he had a CAT scan done, we talked to 2 neurosurgeons, and we had to stay overnight for observation. There isn't any damage (no bleeding, pressure, etc.), other than the fracture, and like I said, it hasn't affected Flea's disposition at all. The doc's gave him/us the ok to go home on Friday. Unfortunately, he has another cold, and is uber-teething. Last night, there was a little blood in Flea's mouth- we don't know if it's a tooth coming through, or if he scratched his gum with his fingernail (he chews on his hands with a vengeance!) Emo-Boy's sister and her fiance' (the doctor) were here for a few days over the weekend. He just did a month of Pediatrics (residency), so we picked his brain a bit. He felt Flea was doing great. I tell you, that boy (Flea) is one tough cookie! And, of course, he charmed the pants off the entire hospital staff! We do have to go back to Children's in late March to have a follow-up done, and to make sure he's healing well. My little bruiser! Anyway, all else is well and good. Talk to you later. Happy New Year!
Summary: The Flea broke his head, but he'll be OK (and he's making a case for becoming either a defenseman, a goalie, or a rugby player when he grows up).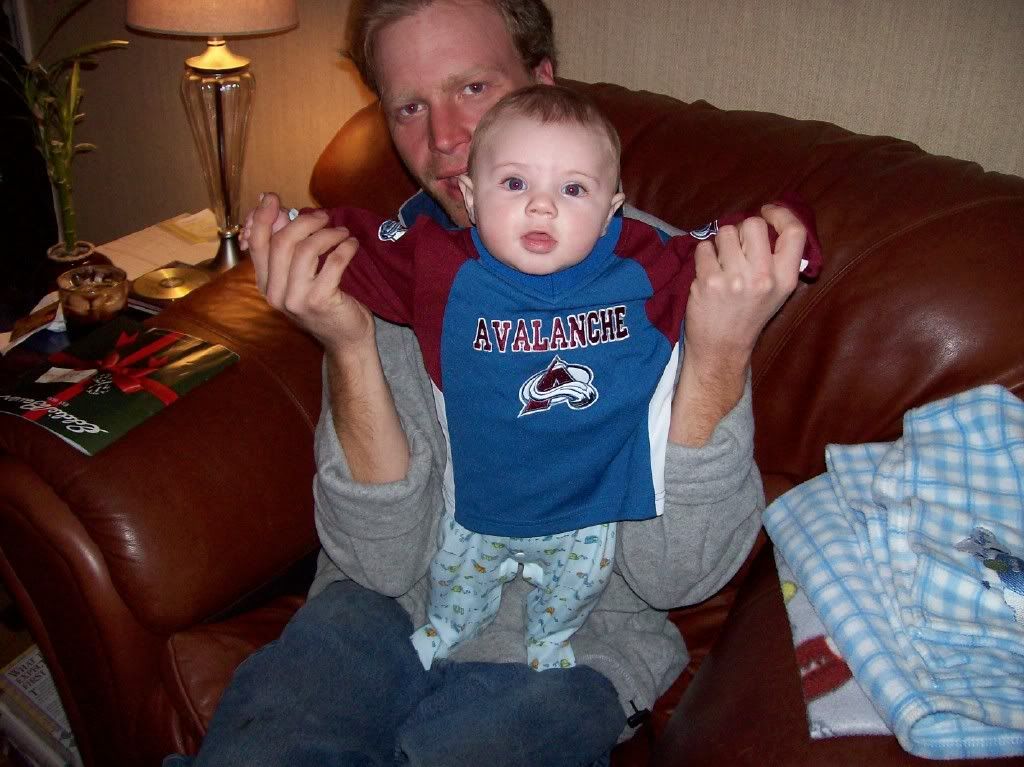 Is that a cute kid, or what?