So last night at work, I had a chance to take advantage of the quiet of the graveyard shift and ponder the game. These thoughts are very distilled, as I am pretty much running on fumes at the moment.
Yes, we lost our fifth straight season opener since 2001. Deal.
Yes, we're 0-f0r-banner-raisings. Deal.
The officiating was of the "huh wha?" persuasion–I'm still wondering where Gord Dwyer saw a cross-check in OT, because I sure as funk didn't see one and I was right freakin' there–and the offense couldn't convert to save their lives half the time, but that is the least of my issues right now.
I'm worried about our defense. The last time I saw a Hurricanes defense collapse into a shell like that, it was 2003 and Paul Maurice was still our coach. Yeah, that's not a good thing.
edit 11:49 PM: So let's talk about the defense. Oh man, the defense. None of the defensemen looked particularly spectacular out there last night, really. None of them even looked better than mildly serviceable, except for Glen Wesley and Bret of the Gimpy Hip. Nicky Wallin is getting roasted alive on some of the message boards this morning for that cross-check in OT, which I don't think is at all fair because I still don't believe he did that. Did he take dumb penalties? Yes he did. But I still didn't see him cross-check anyone in OT like Dwyer said he did. Good to see that Mike Ribiero is still in Montreal in spirit, I guess.
Oh yeah, and some pictures from game day–these were taken with my craptacular Olympus D360-L (which isn't even made or supported by Olympus anymore–that should tell yer something), so I apologize for not-so-great quality.
(Duh AQ, add the pictures)
The scalpers, I'll do first. I'm going to take pictures of these clowns every game I go to, because 1) it's funny to laugh at their pathetic attempts to hit the same people up for tickets 15 times in a row and 2) I get ill at the ones that think that they can blithely ignore RBC Center policy and go strolling the lots asking people "Got tickets? Need tickets?" and copping 'tude with people that tell them to pike off and get their asses back across the road.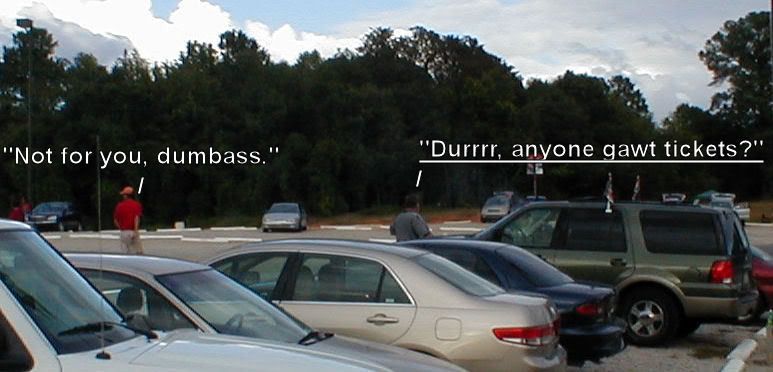 Now this dude is in right place–across the road at the Carter-Finley1 lot–but he hit up the same people like four or five times (including the cat on the left in the red polo shirt), which I found amusing. So I snapped his picture.

I'd have gotten a better picture, but I wanted to be surreptitious–as surreptitious as I can be with a camera the size of Vermont, anyway. The cat on the left is a scalper, but he's new to the gig…at least, I didn't see him last season or the season before. The dude on the right, though, I've seen at the RBC since it freaking opened. Ever since they implemented the rule that scalpers had to keep their lawbreaking2 asses across the street at Carter-Finley Stadium, this guy and several other scalpers have kept right on patrolling the lots.
So now I'm going to start taking pictures and posting 'em so that any RBC securebots that find this site will know who they need to keep a lookout for.
These are the "best of the rest"–which isn't saying much, given the quality of my camera. But here goes: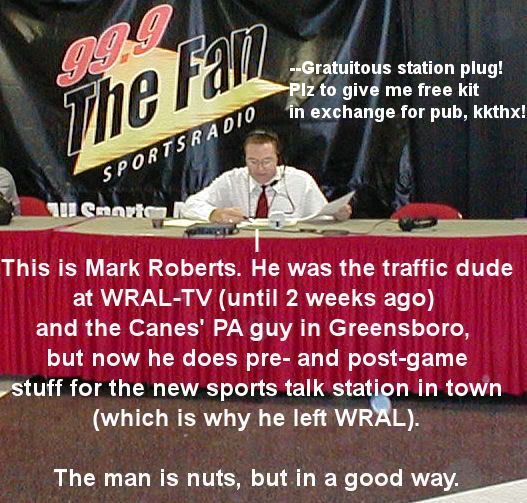 Mark was also the PA announcer for the Raleigh Icecaps (now the Augusta Lynx) of the ECHL.
"The Icecaps are on the Pepsi Power Play!"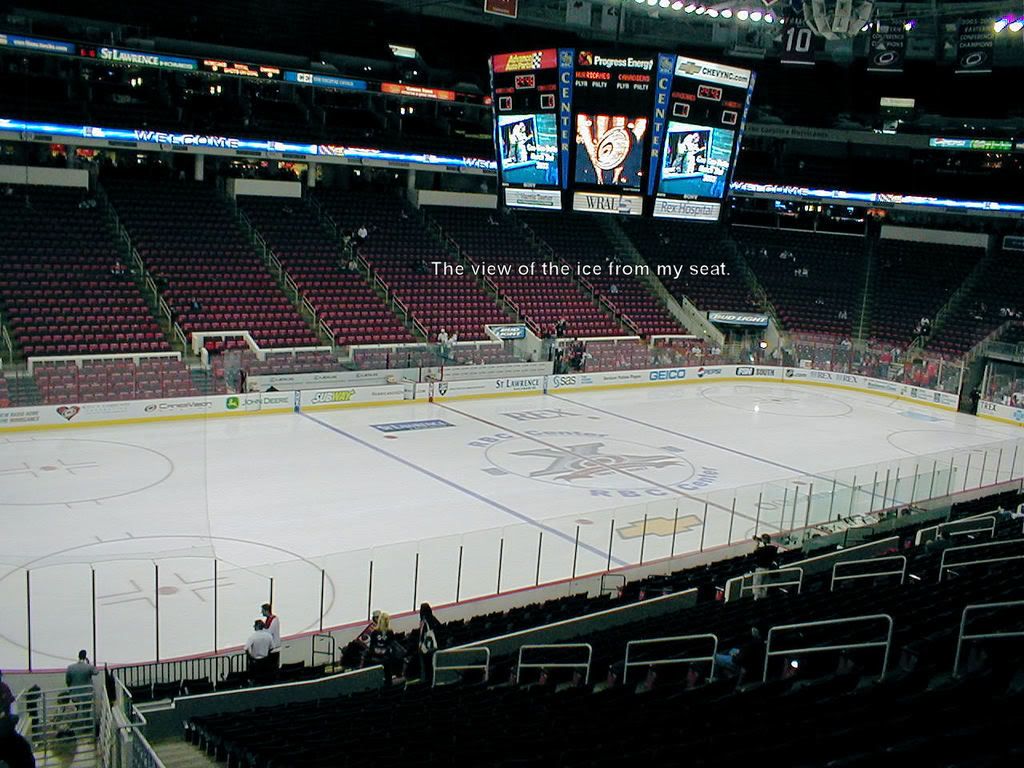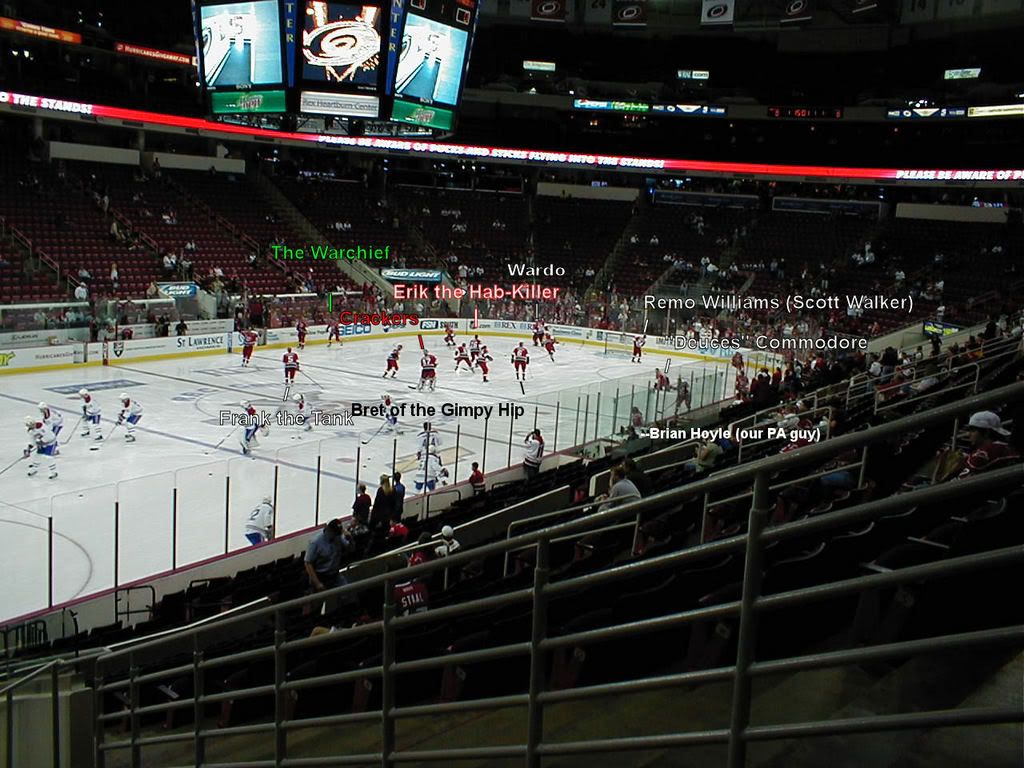 I'll be at Friday's game in Section 332, so I'll have some more (and hopefully better) pictures then.
Go Canes.
1:Carter-Finley Stadium is where NCSU plays its futbol games.
2: scalping is illegal in NC. My apologies to the Toronto fans that came down here in 2002 and wound up having to give their life savings to those scuzzwipes.