WTF is it about Florida that makes players on their teams so whiny?
Is it the water? Is it too much sun? Is there something being put in those fantastic Cuban sammiches? What is it?
Case in point: Saturday's beatdown of the Lightning. Yeah, we pwned face, 5-1. Welcome to Tampa, Mike Smith. I'm sure you'll be hopping a makeshift raft out of there at the earliest opportunity.
But yeah–the St. Pete Times' mediot-in-chief, Damien Homerdero, is all up in the whining about the game:
Lightning defenseman Dan Boyle still cannot believe he was called for a roughing penalty on Carolina's Erik Cole in the second period of Saturday night's game.

"Cole's about 240 (actually 205 pounds) and I put my hand on his face and he does a summersault, 360 (degrees) on the ice," Boyle said. "He was shocked he didn't get a (diving) call. I saw his face afterward."
Hey Danny-boy, guess what: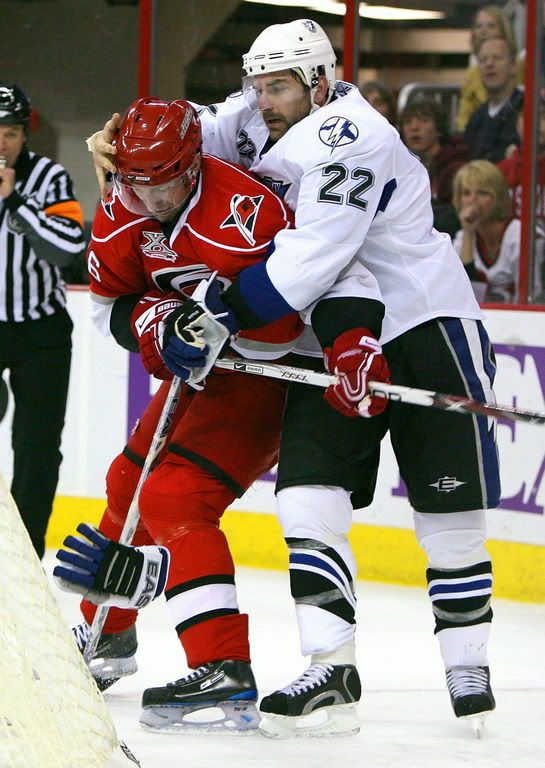 You see where your stick is? You should have been called for a tripping penalty, son. Moreover, allow me to quote for you Rule 51.1 (that would be "Roughing"):
Roughing – Roughing is a punching motion with the hand or fist, with
or without the glove on the hand, normally directed at the head or face
of an opponent.
Now, in futbol that would be a facemask penalty. Is it a borderline call? Possibly–but I freaking watched you drop the glove and try to rip Cole's face off, dude. You got caught, you got called, you sat for 2 minutes, so GTF over it.
And of course, Homerdero goes on to whine about our "reputation" as divers. Wow, I guess the Lightning are so desperate that their players, coaches, and even their mediots are hopping on the Panthers' bus and calling us divers because they can't come up with anything better.
Sheesh.
Anyway–Canes are off until Wednesday, when they play the Thrashers in the ATL.  Mahalo.